A fan blog about the AHL's Wilkes-Barre / Scranton Penguins
Double Your Pleasure, Double Your Fun – Pens WIN 4-1
          vs.      
  1                                              4
–
Penguins do something twice in about 42 minutes that they did twice in 42 games. They scored two shorthanded goals and a power play goal and roll the Manchester Monarchs by a score of 4-1.
Big game in the scope of things because the Monarchs and Penguins are nearly step-for-step with one another records wise and since the top eight in the conference make the playoffs, it's a bigger win than you think at this point in the season.
Before we get going, congrats to Brad Thiessen for being named Goaltender of the Month for the month of January. He joins Jeff Zatkoff as prior winners of the award this season. Zatkoff won it in November.
Jeff Zatkoff vs. Peter Maninno
Lineup Notes: Tom Kostopoulos played his 1,000th regular season game. Mark Eaton was the veteran scratch. Cody Wild took warmups but was scratched. Paul Thompson, Beau Bennett and Phil Dupuis were all injury scratches.
First Period: No scoring. Manchester is a quick team. They get the puck, take the puck and bang, they are gone. The Penguins were reacting to this and adjusting to it as time went on.
Second Period: Power play to the Penguins and Joe Morrow gets the puck at the far faceoff dot and fires it home past Mannino to make it a 1-0 Penguins lead. Then, the Penguins fail to clear their own zone and Brian Gibbons takes a tripping call. The Penguins put the puck all the way down the ice to Mannino, Trevor Smith pursues the puck by himself and goes essentially takes on the entire Manchester team. They stood around and watched him take a shot, get his rebound and put the puck in to put the Pens up 2-0.
Then, this happened during intermission…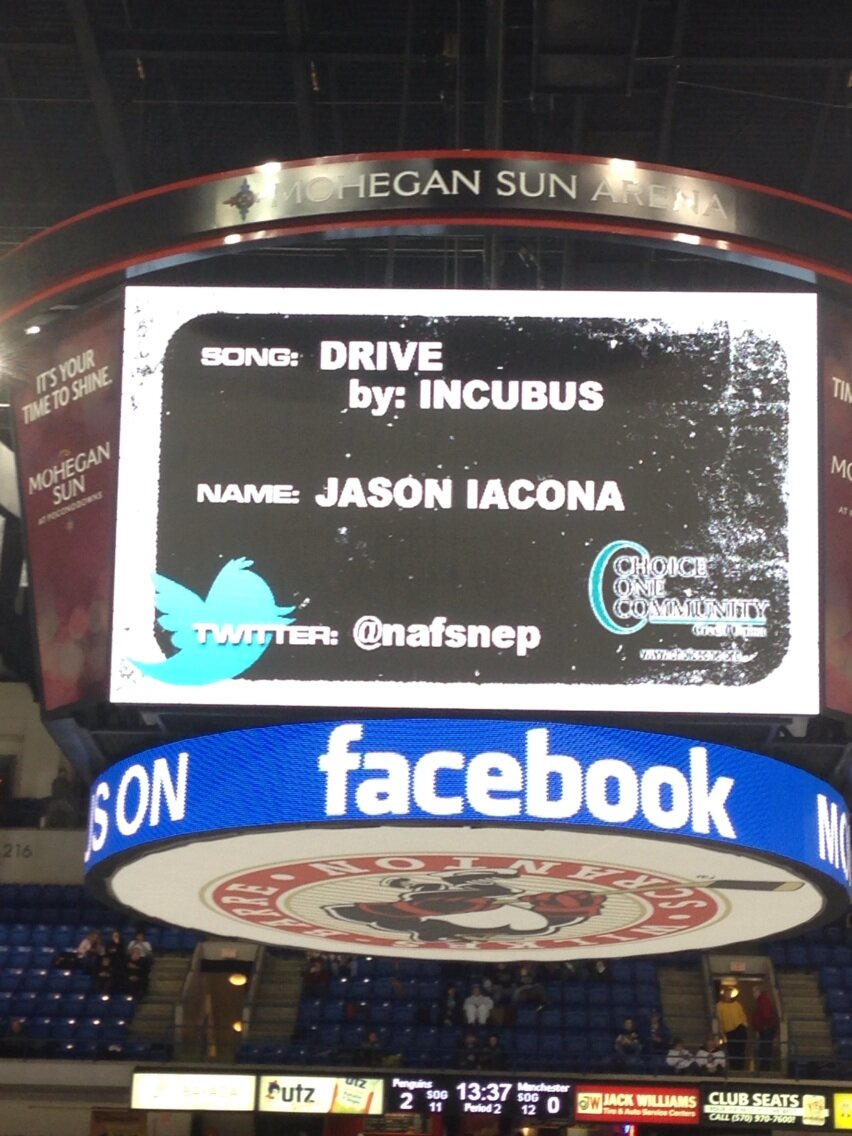 –
Moving on.
Third Period: Riley Holzapfel off on a trip, Zach Sill picks off a center ice pass and skates in on a break and scores to make it 3-0. 42 games, two shorthanded goals. 42 minutes, two shorthanded goals. Later, Adam Payerl takes a shot that rebounds to Holzapfel and he corrals it and wrists it home to make it 4-0. Manchester responds the next shift with Vincent LoVerde with a wrist shot from just under the blue line to break up the shutout bid for Zatkoff.
Overall, a great showing by the Pens. They could have had their doors blown in from Manchester's speed, but adjusted and used special teams to win.
Three Stars: 3) Joe Morrow (goal, +2) 2) Zach Sill (goal, +2) and 1) Trevor Smith (goal, +1)
A forgettable game by Chris Barton, fresh from recall to the Wheeling Nailers. 6 PIMs, including a delayed penalty where he just skated down and ran over Mannino. You aren't going to endear yourself to this fanbase or the coaching staff by doing that.
Around the Division: Everyone lost. Binghamton to St. John's on the Rock 4-2, Syracuse to Springfield 5-3 and Norfolk to Adirondack 5-2. Hershey was idle.
Standings: Binghamton 58 — Syracuse 56 — Penguins 47 — Hershey 44 — Norfolk 39
Conference: 1) BNG (58) 2) SPR (58) 3) POR (54) 4) SYR (56) 5) PRO (51) 6) WBS (47) 7) WOR (46) 8) MCH (46)
Wheeling Update: The Nailers lost 2-1 at home to the Reading Royals.
SendToNews Highlights: Packaged right here for your viewing enjoyment.
Pens welcome the Adirondack Phantoms in tomorrow for a Saturday night game which will be on TV. Gameday for that will be up on the blog at 3 p.m.
Let's Go Pens!