A fan blog about the AHL's Wilkes-Barre / Scranton Penguins
Saturday to Six – Pens WIN 4-0 (PRO leads 3-2)
          vs.       
  0                                              4
–
The best play in this game came from someone on the ice that was not a player.
With 5:23 left in the third period of what was a 3-0 Penguins lead, Providence forward Graham Mink decides it is time to tackle and start punching goaltender Brad Thiessen. Naturally, a line brawl ensues. Mink continues his assault on a defenseless Thiessen, when referee Trevor Hanson jumps in and tackles Mink to diffuse the situation any higher than it already had.
The end result for Mink, and ultimately the Providence Bruins, was a 4-0 shutout by the hands of Brad Thiessen and the now resurgent Wilkes-Barre / Scranton Penguins.
Game 6 is Monday night in Providence.
Brad Thiessen vs. Niklas Svedberg. No lineup changes for the Penguins this night.
First Period: Can best be summed up by saying that it looked like Providence wanted to send this to a Game 6 more than the Penguins did. Brian Dumoulin cashed on a rebound of a Brian Gibbons shot to make it 1-0. Then the Pens nearly score again on another rush by Warren Peters. Christian Hanson and Joey Mormina have been going at it all series. Mormina wanted Hanson to fight in Game 5, Hanson wanted no part. Hanson wanted Mormina to fight in Game 6 and gave Joey no choice as Hanson dropped his gloves and started punching Mormina. What became of this for  the Bruins was a Pens 5×3 power play. Trevor Smith scores in the slot after a P-Bruin lost his stick to make it 2-0 Pens. Wheels officially off the bus at that point for Providence, who took four straight penalties to open the game.
Second Period: Things tightened up for the P-Bruins. Not before Bobby Robins gets assessed a 5:00 boarding major. Two big penalty kills late by the Pens to preserve the 2-0 lead heading into the….
Third Period: Adam Payerl scores a goal on a slapshot that plum beat Svedberg. I thought at the time it was a big goal because you almost could feel a Providence goal coming. Thiessen was on his head making saves in scrambles. Pens with another big kill a Peter Merth delay of game call.
Then the gong show happened. Graham Mink falls on Thiessen after a crash play. It takes him a long time, or longer than usual time to get off of Thiessen and back on his feet. This incites the Penguins, Alex Grant  especially. The ensuing faceoff, Thiessen makes another save and all hell breaks loose with Mink on top of Thiessen punching him. Referee Trevor Hanson jumps in, and stops it and things separate. This is what was left of the carnage: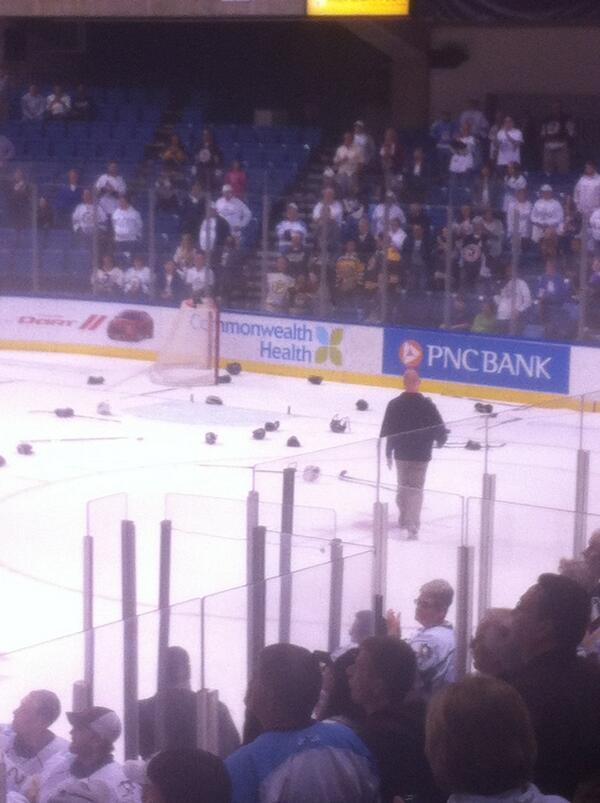 –
Thiessen would be fine. Later, the Pens find themselves on a 5-on-3. They score on a Paul Thompson shot. Goalie Nik Svedberg takes exception and two hand slashes Thompson. The same thing nearly breaks out without any punches thrown at Svedberg though. Thiessen makes a pad stop with just about ten seconds left to preserve the shutout and the game ended.
Three Stars: 3) Riley Holzapfel (two assists, +2) 2) Brian Dumoulin (game winning goal, two assists, +1) and 1) Brad Thiessen (30 save shutout)
From the League's PR, Thiessen has stopped 97 or 100 for a 0.82 GAA and a .970 SV%.
Here are the full highlights of the game from the Pens YouTube page:
So the series will see a sixth game. The Penguins will need to play like the P-Bruins are on the brink of elimination I think in order to get this to seven on Wednesday.
If anything breaks Sunday as far as suspensions go, I will have an update first on Twitter. Then here on the blog.
If not, see you Monday.
Let's Go Pens! All In!!!