A fan blog about the AHL's Wilkes-Barre / Scranton Penguins
Move Over, Barry — Pens WIN 4-1
          @          
4                                                1
–
Late in the third period, with the game already well decided to the Wilkes-Barre / Scranton Penguins, Springfield forward Dana Tyrell cherry picked a Penguin turnover from the blue line and skated across center ice and towards Matt Murray on a breakaway. Brian Dumoulin was trailing.
Tyrell made a few moves and backhanded the goal past Murray and in. It ended a record that Matt Murray had set for shutout minutes. The number? 304:11, breaking the old record set by Barry Brust a few years ago of 268:17.
Out of all the saves that Murray made, 130 in total during this remarkable, remarkable run, he will probably say that the seemingly weak and savable shot that Tyrell made was one he could have saved 99 out of 99 times.
304:11. A new record in the 79 year history of the American Hockey League. Good luck breaking that one.
The Penguins won the game 4-1 and continue to rack up points to the good and for the run to the 2015 Calder Cup Playoffs.
Murray opposed Oskar Dansk
Lineups were essentially unchanged from last night. Josh Archibald skated the warmups but was scratched. Last night in Manchester is was J-S Dea.
First Period: Springfield started with jump, with old pals Brian Gibbons and Ryan Craig buzzing about generating chance after chance. Penguins then started to take control of the period and got a power play. Tom Kostopoulos scored this goal that counted…
[tweet https://twitter.com/nafsnep/status/574651978913030144]
.. my first retain, and you can hear my voice at the end of the video, was that Kostopoulos kicked it in. Referee Darcy Burchell disagreed with me and the goal stood. It was on a power play.
Falcons came alive after that goal and started to generate more chances with Gibbons and Craig continuing to pressure. Matt Murray shut the door.
Second Period: Berfore history was made, it almost never came to fruition. Sean Collins broke in on a break but Murray made the save. Gibbons with a shot from far, Murray a cool glove save. It was just a matter of time before Murray made history and he did, with the Falcons bearing down.
Adam Payerl scored off of a rebound of a Scott Wilson shot that made it 2-0. No video of this one. Sorry.
Andrew Ebbett scored this ridiculous goal being hauled down. Take a look at this one…
[tweet https://twitter.com/nafsnep/status/574667821046718465]
Just nasty.
Third Period: Matt Murray continued to make history. He had a sequence of unreal stops on a Springfield power play. I would have got video of that, but I am sure that Brian Coe and the Penguins brain trust on Coal Street will have a video montage of Murray's history making run. You will want to check that out if they every put one out.
Wilkes-Barre continued to control the period. Time was dwindling… then Pierre-Luc Letourneau-Leblond did this…
[tweet https://twitter.com/nafsnep/status/574679550262669314]
Tyrell scored on the breakaway with about a minute or so remaining bringing the shutout streak to an end. It was the first goal scored by the Springfield Falcons against the Penguins in true four meetings.
By the numbers….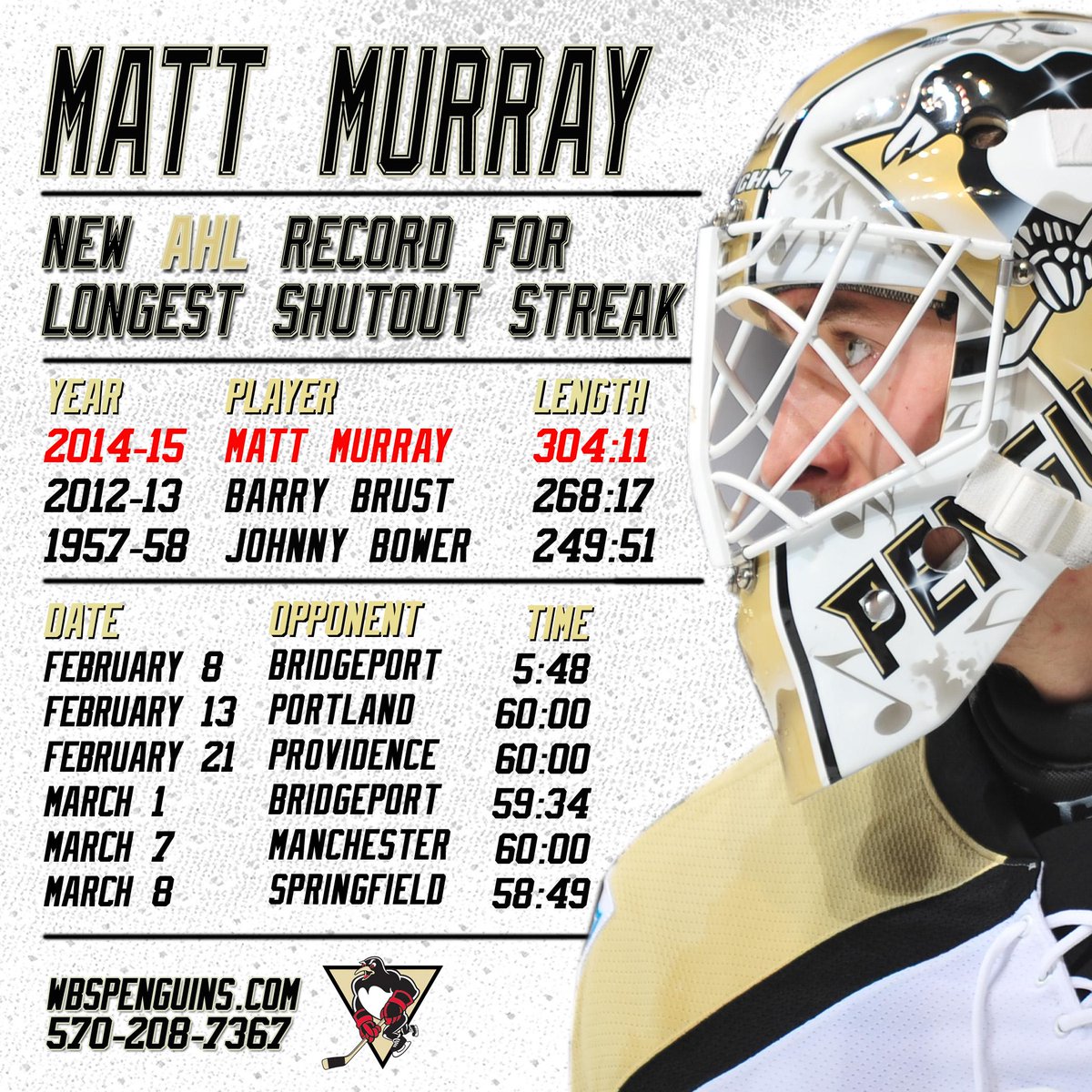 –
Three Stars: 3) Andrew Ebbett (goal, assist, even) 2) Tom Kostopoulous (goal, assist, even) and 1) Matt Murray (32 saves on 33 shots)
Around the Division: Hershey lost 5-1 to the Portland Pirates at home. Charlotte beat Norfolk 4-2 in North Carolina. Binghamton beat Syracuse 4-2.
Standings: Hershey 79 — Penguins 74 — Lehigh Valley 59 — Binghamton 58 — Norfolk 51
Conference: 1) MCH (79) 2) HER (79) 3) SYR (74) 4) WBS (74) 5) PRO (72) 6) POR (70) 7) SPR (70) 8) WOR (68)
Wheeling Update: The Nailers were in Evansville, and lost to the IceMen 2-1.
SendToNews Highlights: Are here.
—
Penguins finally home and host the Hershey Bears Wednesday and Saturday this week. My Week 22 AHL Power Rankings will hit the blog Monday at 4. I'll get started on the chart refresh Sunday night. Check back.
Let's Go Pens!!!
Comments are closed.